The trivial to assemble kit includes:
CamBox device connecting the camera to a streaming server on the link of any operator
8 Mpix IP camera:

Color Master PRO Technology
Sensitive sensors and bright F.35/F1.6 lenses
Color image at 0.002 / 0.003 lux
Max resolution 3840 x 2160 px (8MPX, 4K)
efficient H.265/H264/Ultra H.265 video compression with adjustable quality and data stream
motozoom, autofocus
three-stream coding, third stream e.g. for transmission over slow links (Internet)
digital noise reduction - 3D DNR, WDR 120dB
INTELLIGENT ALARMS: silhouette detection, intrusion, crossing line, scene change, object left behind, object removed, audio detection
Built-in infrared illuminator with programmable switching off
multi-zone motion detection
micro SD/SDHC/SDXC card slot (up to 256GB)
Audio input / output
alarm input / output
Power supply via PoE 802.3af or 12V DC
IK10, IP67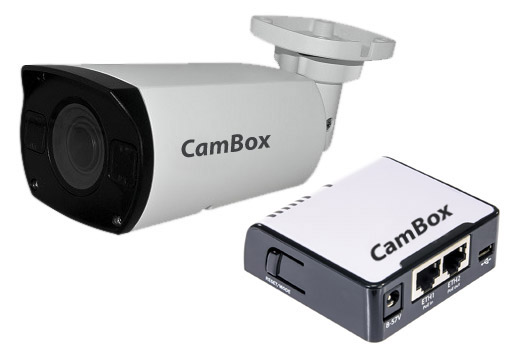 The kit allows you to quickly connect the camera by simply plugging one (attached) RJ45 cable from our camBox device to the camera and the second (also attached) cable from the camBox device to the router of your Internet provider, or using WIFI (just select the network and enter a password).
EXTRA PRICE 247€ net
(value of set M-ZOOM i6-C73582D-RZA 480.75€ net + camBox 38.50€ net)
Our kit allows you to seamlessly connect using the internet provided by any carrier, including but not limited to:
Orange home internet: Love, Neostrada, fiber optic
Orange mobile internet
Plus: Power LTE
UPC: home internet VIP, Smart, Comfort
T-Mobile: home internet, mobile, fiber optic
Play: home internet NETBOX, mobile internet
Aero2
Cyfrowy Polsat: home internet LTE
Vectra: fixed and mobile internet
Netia: home and fibre optic internet
Multimedia: landline internet
If you have internet with a router or WIFI router - our kit is for you - no permanent public IP address required.